Nearly half of respondents indicated they would walk or bike to work, school and shopping if there were bike paths and sidewalks.
(SAVANNAH, GA) Savannahians want more community-based solutions that promote healthy food and physical activity where they live, work and play. The findings of a year-long survey conducted by Healthy Savannah were revealed at its CDC Racial and Ethnic Approaches to Community Health (REACH) Stakeholders' Meeting on August 19. About 40 stakeholders were in attendance, representing Savannah and Chatham County organizations committed to elevating the health and wellness of the community. The event was held at the Vaden Automotive corporate office building at 12020 Abercorn in Savannah.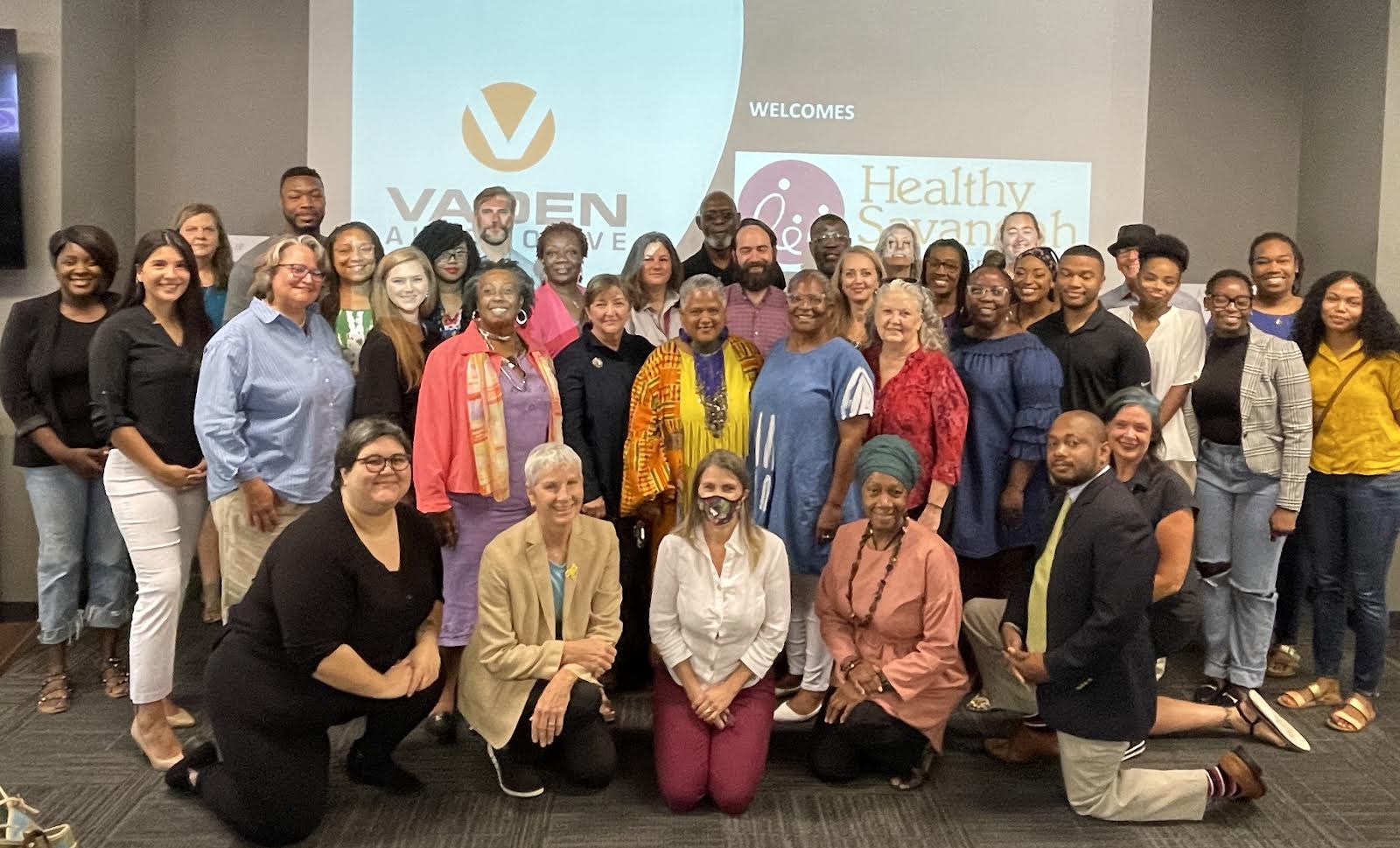 "It's amazing to have our partners together and focus on an issue that's so important to our community," said Lillian Grant-Baptiste, chair of Healthy Savannah. "To look at health equity is an amazing need and amazing call to all of us to bring about a more abundant community."
The results indicate residents are interested in increasing healthy lifestyles, better access to health services and physical activity infrastructure, but aren't often aware of those resources or how to tap into them.
• PHYSICAL ACTIVITY: A quarter of respondents would use the Tide to Town trail system frequently or all the time. This is an increase over the three-year period. Additional data shows that the trail is equally used by all racial and ethnic groups. More respondents had become aware of the Tide to Town trail system and Active People Healthy Savannah initiative but there was a decrease from 10% to 25% in those who did not participate in physical activities at all.
• NUTRITION AND HEALTHY FOOD ACCESS: Respondents reported an increase in healthy food purchases for all sources over the three-year period. Large grocery stores see the biggest use of SNAP benefits and health food purchases. Most respondents would most like to utilize fresh food deliveries for both SNAP use and healthy food purchases.
• RESOURCE DIRECTORIES AND COMMUNITY RESOURCES: Resource directories continue to be underutilized, opening the door for opportunities to share the resources and their usefulness with community members. Only 32% of respondents have used the 211 resource line and 35% have used 311. Herohelpme.coman online directory of community health resources, is the least used, with only 20% of respondents reporting its use.
"One disturbing trend revealed in this survey was that fewer people seem to be participating in physical activity during 2021 than in previous surveys," said Armand Turner, physical activity program manager. "We suspect this downward turn may have been related to the pandemic, and if so, that indicates COVID negatively impacted the health of our community in more ways than the virus itself."
Concerns related to reduced physical activity during the COVID pandemic led Healthy Savannah to engage its social media followers with weekly Healthy Walks on walking trails throughout Savannah and Chatham County over the past two years, including portions of the Tide to Town. This protected network of walking and bicycling trails is under construction and eventually will connect 75% of Savannah's neighborhoods to safe, affordable and cost-effective walking and biking infrastructure. Its first phase, the Truman Linear Park Trailis partially complete.
During the meeting, Paula Kreissler, executive director of Healthy Savannah, challenged Healthy Savannah's key stakeholders to use the survey results to develop specific actions based on the data.
We're incredibly grateful to our community for all the continued support throughout these years," said Tasha Wei, director of education for Forsyth Farmers' Market. "We're honored to be able to work with our local farmers and food producers to meet this increasing demand for healthy, local food. While our work specifically addresses food insecurity, it also spans issues related to sustainability and the social and cultural impact of food. These are just some of the many social determinants of health that we hope to continue to address in the future."
Most of the survey respondents indicated that large grocery stores continue to be their main source of healthy food purchases, but the mobile arm of Forsyth Farmers' Market, Farm Truck 912saw an increase in use 15% in 2019 to 35% in 2021. Partially funded by the REACH grant, Farm Truck 912 brings local seasonal fruits, vegetables, and agricultural products sourced directly from the Saturday market vendors to Savannah neighborhoods throughout the week.
Healthy Savannah has been engaged with collecting community feedback on healthy food and active living knowledge and behaviors since 2014. The work is funded in part by the Centers of Disease Control Racial and Ethnical Approach to Community Health (REACH) grant, administered by Healthy Savannah and the YMCA of Coastal Georgia. The 2021 survey was revised to focus on general knowledge of Healthy Savannah activities, community knowledge and behaviors related to healthy food and active living. The majority of respondents were African American/Black (74%) all living in Chatham County. For more information about the 2021 survey results, contact Paula Kreissler at paula@healthysavannah.org.
ABOUT THE YMCA OF COASTAL GEORGIA/HEALTHY SAVANNAH GRANT FOR RACIAL AND ETHNIC APPROACHES TO COMMUNITY HEALTH: In September 2018, Healthy Savannah and the YMCA of Coastal Georgia were awarded a five-year, $3.4 million grant called Racial and Ethnic Approaches to Community Health. Awarded by the Centers for Disease Control and Prevention, the funding is being deployed in an "upstream" approach by the Savannah/Chatham County project team to foster sustainable health equity among Black residents in low-wealth neighborhoods. The aim of the local project, called Healthy Opportunities Powering Equity, or HOPE, is to increase the availability of high-quality nutrition; promote physical activity through creating greater access to safe places to walk, run, bike and play; and foster stronger connections between people and the healthcare providers who serve them. Working with more than 200 community partners and organizations, the team is committed to elevating the health and wellness of the community through policy, systems, and environmental change.
healthysavannah.org ymcaofcoastalga.org.
MEDIA CONTACT
Marjorie Young
Carriage Trade Public Relations® Inc.
912.844.9990
www.carriagetradepr.com
marjorie@carriagetradepr.com